Things To Do
Arriving in beautiful Myrtle Beach, South Carolina is always exciting as you take in the beautiful scenery that surrounds you from all directions in this charming and unique coastal city. More than 60 miles of white chalky sand beaches stretch on forever into the beautiful distance of Myrtle Beach welcoming guests to come dip their toes into the warm salty sea and stay just a little longer.
THE BEACHES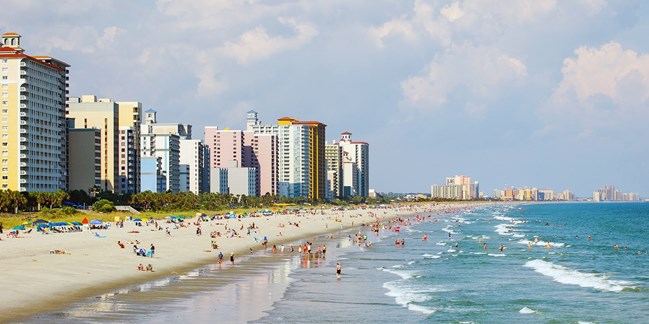 The turquoise Atlantic Ocean waves strike the crystal white sandy seashores rhythmically in Myrtle Beach where the dreamy sand beaches welcome you to stay forever under the pale blue skies and hot South Carolina sunshine. Choosing Myrtle Beach as your destination on the map will be a wise choice. Here is where you will discover the natural beauty of this charming seaside city wherever you may roam. Beautiful white seagulls flutter above the Atlantic Ocean waters waiting for their next meal as playful dolphins in the distance entertain the guests on land. This is South Carolina and one of the dreamiest spots ever to vacation any time of the year.
The beaches in this wonderful city offer guests many wonderful water sports and activities to choose from daily. You may just choose to relax in a comfy outdoor lounge chair soaking your suntanned toes in the salty sea all day long and catching up on a romance novel while your children splash beside you happily. There is a plethora of seashells to search for and treasures of sand dollars to collect as souvenirs. Be sure to tote along your favorite picnic basket and maybe even have a seaside picnic with your family. These are memories you will never forget and will cherish forever as memories of your days spent in South Carolina.
The beaches are excellent for staying in shape and walking daily. Ditch the flipflops as you will not need them when you sink your feet into the softest sand on earth in Myrtle Beach, South Carolina. Most vacationers spend all their time on these gorgeous beaches relaxing, jogging, surfing, swimming, snorkeling, boating, jet skiing, sailing, horseback riding and making lifelong friendships with other wonderful guests staying at The Palace Resort.
GOLF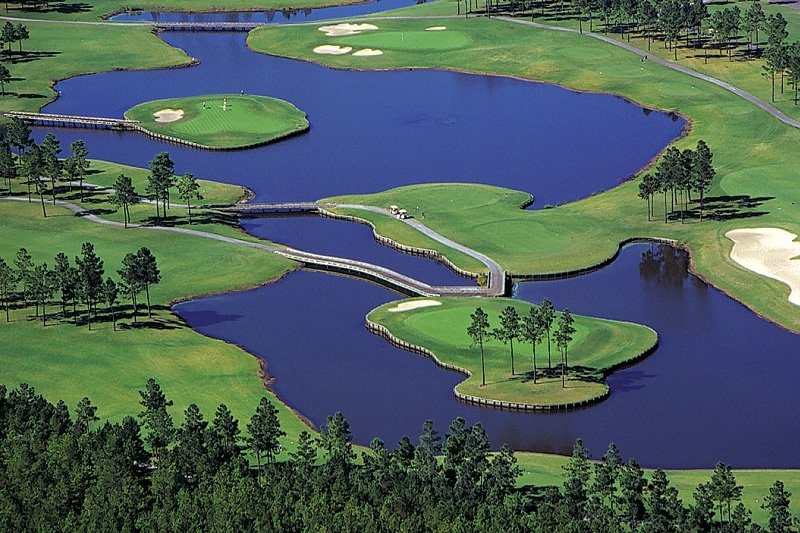 Did you know that there are over 100 championship golf courses located in Myrtle Beach and North Myrtle Beach? This is the perfect place to take a vacation and check out these amazing well-designed golf courses. Be sure to check out the best prices, best courses, best play packages and more at www.myrtlebeachgolf.com. This site will give you easy access to planning out your tee-times, golfing adventures and even restaurants that are located on or nearby the golf courses.
Man O War Golf Club
Located in the gorgeous Carolina Forest section of Myrtle Beach you will find this dynamic and well planned golf course waiting for you and your friends. Dan Maples in 1996 mapped out this battlefield of back to back island greens with beautiful blue water surrounding these quaint islands. Nearly 7,000 yards of golf course await you in this beautiful green Bermuda grass fairway. These greens are among the largest in the area with an average of 10,000 square feet per putting surface. You will surely be impressed with this top of the notch golf course in Myrtle Beach, South Carolina.
River Hills Country Club
Come to the historic fishing village area of Little River just 20 miles north of Myrtle Beach. Here you will find a beautiful state of the art golf course carved out of the deep wooded maritime forest of the South Carolina seacoast and surrounded by the gorgeous wetlands of beautiful South Carolina in the Lowcountry. This golf course offers the players a serene setting to come and enjoy many games of golf with their family and friends. Truly worth the extra time to drive out to see this notable golf course while staying at The Palace Resort. We promise this country club will be one to rave about when you get back home.
Mini golf is also a very popular sport in Myrtle Beach and North Myrtle Beach which is wonderful for involving the kids and friends for days of fun out in the sun.
Captain Hooks Adventure Golf
This amazing and fun min golf course is in Myrtle Beach offering players a thrilling time. This course is designed around the fairy tale of Peter Pan in Neverland. The kids will adore this course as well as mom and dad. Peter Pan is the center theme of this course as well as the villain Captain Hook. You will become part of the Darling family and take part in the enchanted island in this mystical game of mini golf. You will see where the lost boy lives and help rescue Tinkerbell. The huge ship will be a part of this adventure so be sure to pack your camera.
Mount Atlanticus Mini Golf
The family will love this adventuresome mini golf course which is filled with gorgeous scenery, waterfalls and fun! Be sure to check out coupon pricing and great deals at www.myrtlebeachminigolf.com. This is well worth the time to save money and get in a splendid day of mini golf at one of the most popular and amazing places in the area.
ENTERTAINMENT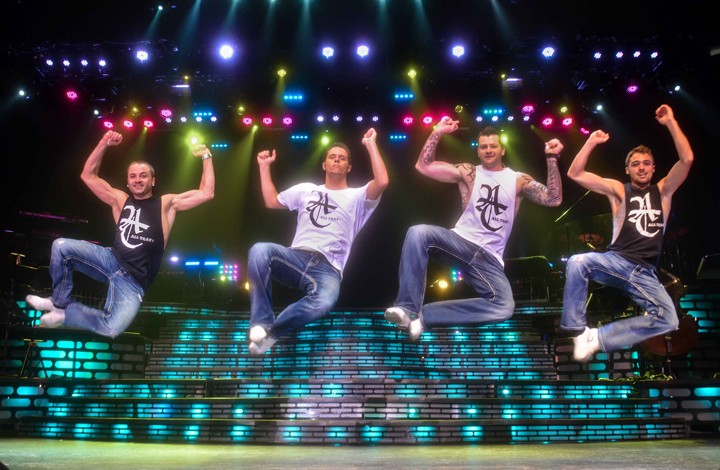 Myrtle Beach and North Myrtle Beach welcome you to the best in entertainment ever. You will find museums, theaters, an amusement park, a SkyWheel and so much more.
The Carolina Opry Theater
Calvin Gilmore Presents some of the best entertainment you will ever see when you arrive in Myrtle Beach and purchase a ticket for The Carolina Opry Theater. These shows are award winning and ranked as some of the best entertainment in the whole city. Here you will discover lively dancing, popular stars, Broadway-like productions and the best Christmas show ever. Tickets for this fine theater can be purchased ahead of time to save time and money when you visit the website: www.thecarolinaopry.com We promise this will be one theater you will be sure to return to again and again while vacationing in South Carolina.
AMUSEMENTS
Family Kingdom Amusement Park
This thrilling old-time family friendly amusement park is located directly beside the Atlantic Ocean. Filled with a nostalgic feeling of the past you will delight in the wooden roller coaster, 38 carnival rides, carnival games and the most delicious cotton candy ever. For general information and tickets please visit: www.familykingdomfun.com. Some other fun adventures you may enjoy in Myrtle Beach are roller blading, Frisbee, fishing, hiking and even shag dancing under the moon on the beach nightly.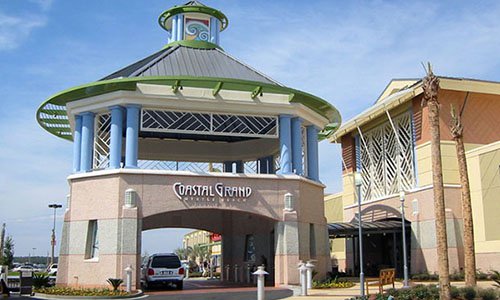 SHOPPING
Shopping is magical when you arrive in Myrtle Beach. There are so many wonderful outlet malls with fantastic prices that you will love. Slip on a comfy pair of walking shoes and take time to enjoy hours of the best shopping in the area.
Barefoot Landing
Barefoot Landing is a must see on your list of things to do. This lovely area on the map will be the highlight of your shopping days. Some of the stores include Antica Murrina, Beach House, Black Market Minerals, Del Sol, Hat Fanatic, Illusions, Peace Frogs, Tumbler Bay and White House / Black Market. The prices are incredible at these fine stores.
DINING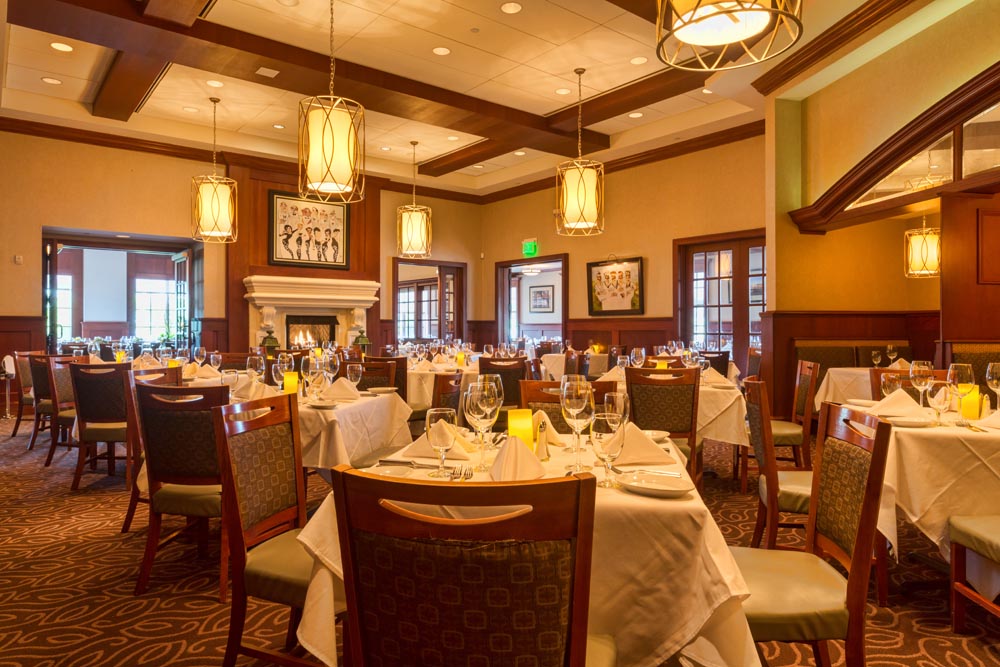 Arriving in Myrtle Beach you will notice the tantalizing smells of salty seafood from popular restaurants as well as aromas wafting from steak houses, Chinese and Thai restaurants, and so many more. Be sure to try out many of these delicious diners which include many mom and pop shops in this beautiful city too.
Hook and Barrel
This fine seafood restaurant has a very relaxing atmosphere and some of the most scrumptious seafood ever. Dine on crab cake sliders, fish, salads and even key lime pie. A full menu is available online at www.hookandbarrelrestaurant.com
Carolina Roadhouse
Here is where you will find the true taste of the south with many delectable items on the menu to choose from including beef ribs, garlic mashed potatoes, baked potato soup, Louisiana seafood, salmon salad, chicken wings, onion rings and healthy salads. A menu of these most delicious items can be found online at www.carolinaroadhouse.com
WATER SPORTS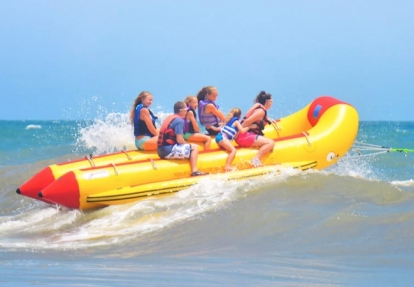 The Atlantic Ocean offers a plethora of adventures for everyone. Some of these wonderful water activities include SCUBA diving lessons, snorkeling the colorful underwater world of the sea, swimming, parasailing, skiing, surfing, banana boat rides, fishing, kayaking and parasailing. You will never be bored with all there is to do in Myrtle Beach, South Carolina.
Island Adventure Watersports
Island Adventure Watersports welcomes you to rent a Jet Ski and take a two-hour tour. The tour covers 60 miles of venturesome water trails and sightseeing you will never forget. You may be amazed when you spot dolphins on this tour. Be sure to pack the GoPro camera and capture all the beauty of Myrtle Beach, South Carolina. We promise you will not be disappointed with this trip. It is quite amazing. You may even choose a kayak rental, canoe rental or even a boat rental instead of a Jet Ski. Whatever you choose you will have the time of your life at Island Adventure Watersports. For prices, rentals, etc. visit: www.islandadventurewatersports.com
Property Location
Location: Oceanfront
Area: Myrtle Beach
1605 South Ocean Blvd
877-868-2750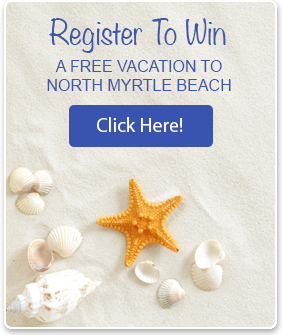 Disclaimer
Myrtle Beach Vacation Rentals is not affiliated with onsite management or the HOA of this complex.